Sydney to Byron Bay Bus

Travel Between Sydney & Byron Bay
There are many places to visit on a trip between Sydney and Byron Bay. As you make your way up the coast, beachside towns await to lure you with their friendly local charm and history.
This strip of coastline is highly sought after for its surf beaches, golden sands and gnarly waves await the avid surfer. Bring your surfboard along for the ride, we can easily take your board in our oversized luggage bins so it stays with you the whole time.
HIGHLIGHTS OF THE SYDNEY < > BYRON BAY TRIP
1. SEE THE VIEW FROM THE BLUE MOUNTAINS
Visit the Blue Mountains, famous for the 'Three Sisters' it is a great place for the nature lover complete with bushwalking trails.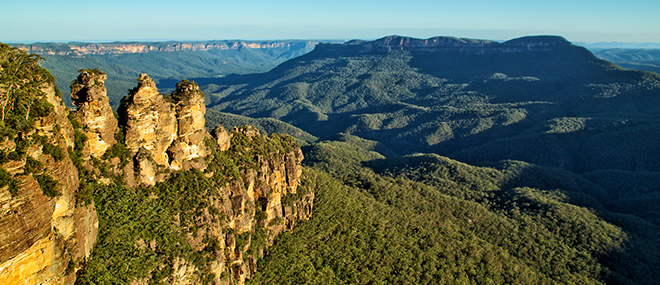 2. GO DOLPHIN WATCHING IN PORT STEPHENS
Spend a day or three in Port Stephens, and take a tour out to watch the dolphins that inhabit the area.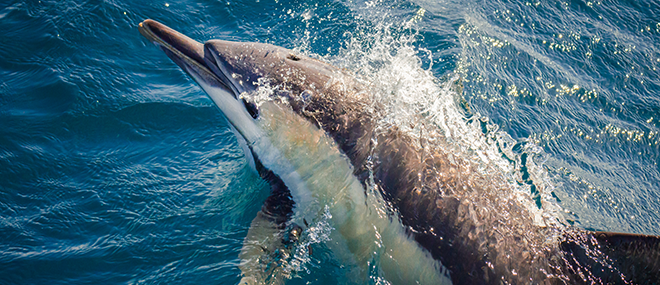 3. EXPLORE PORT MACQUARIE
Enjoy the natural beauty surrounding Port Macquarie with activities like paragliding, horse riding, water skiing, kayaking and much more.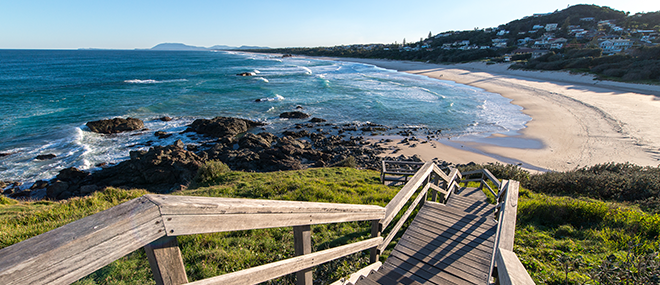 4. TAKE IT EASY IN YAMBA
Spend a few days relaxing in Yamba, the perfect place to visit any time of the year and offers everything you expect from a coastal holiday resort town.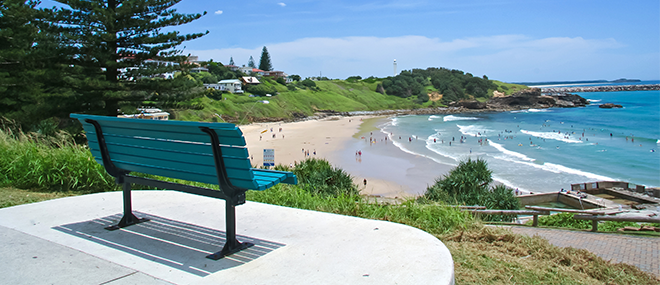 5. MEET COLOURFUL CHARACTERS IN NIMBIN
Take a day tour to Nimbin, recognised as the hippy capital of Australia, explore historical shops and cafes and meet the locals.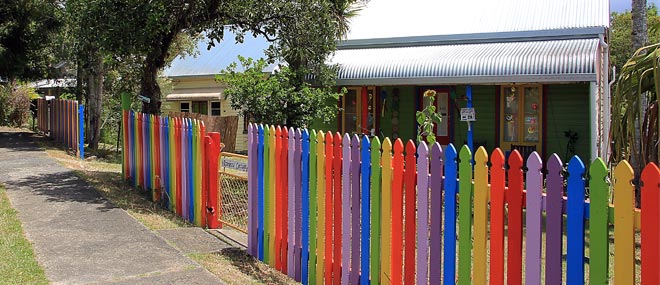 BUS STOP LOCATIONS
SYDNEY
Western Forecourt, Bays 5 & 6,
Sydney Central Station NSW
BYRON BAY
84 Jonson St, Byron Bay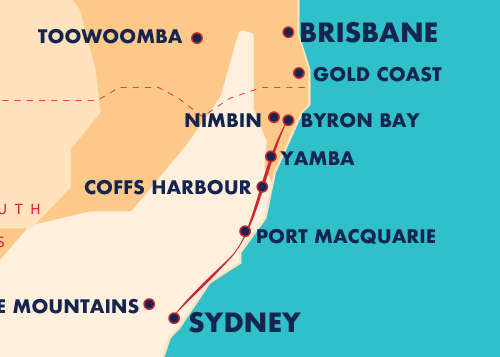 MUST DO'S AT YOUR DESTINATION