Fraser Island Tag-Along Tours

GET TO KNOW FRASER ISLAND WITH PALACE ADVENTURES
Picture driving along golden beaches that stretch for miles, lush green rainforests and freshwater lakes perfect for swimming in. Add plenty of marine life, birds, and the occasional dingo, and you'll start to wonder if a place like this actually exists in real life.
Well, you can believe the hype, it's true. The place we just described is Fraser Island, affectionally shortened to 'Fraser' by the locals. Fraser is not only the world's largest sand island, it's World Heritage listed and often described as a little slice of heaven on earth.
And on a Palace Adventures Tour, you'll travel around Fraser Island with ease, explore with fun people, and most importantly, a local guide who is there to make sure you have a great time.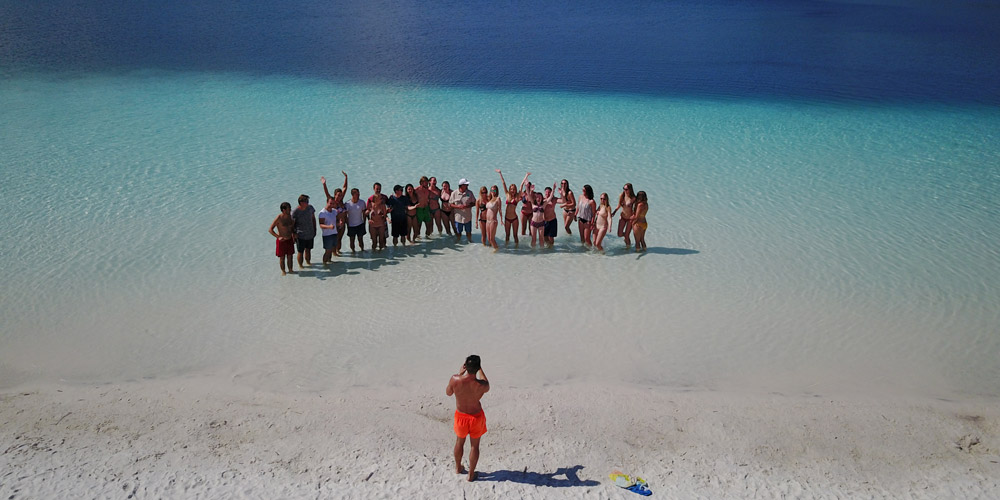 FRASER ISLAND 4WD TAG-A-LONG EXPERIENCE
HIGHLIGHTS
Lake McKenzie
75 Mile Beach
The Pinnacles Coloured Sands
Eli Creek – one of Fraser's most popular spots with locals in the summer
The wreck of Maheno
The Champagne Pools – no visit to Fraser Island is complete without a visit to Mother Nature's Jacuzzi, these natural rock pools are filled with bubbles as the surf hits a rocky outcrop and are a great spot for cooling off.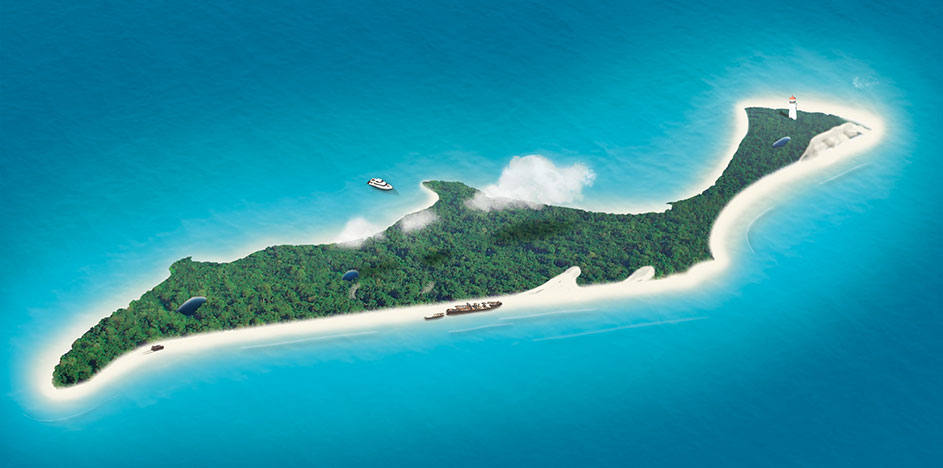 CHOOSE YOUR OWN ADVENTURE
We've created four different options to take the hassle out of planning your trip to Fraser.
1. FRASER 4WD TAG-A-LONG EXPERIENCE – 3 DAY, 2 NIGHT
$519
Exactly what it says on the label, our classic 4WD tag-along tour. You meet us at the pick-up point (Palace Hostel) on the morning of your tour and we drop you off in the evening on the last day of your tour.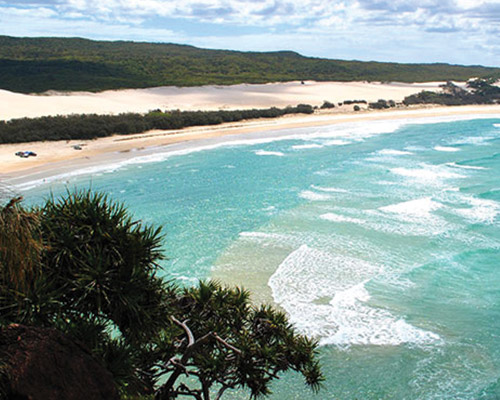 2. FRASER 4WD TAG-A-LONG EXPERIENCE – 3 DAY, 2 NIGHT + ACCOMODATION IN HERVEY BAY
$549
Our most popular choice. This option includes the infamous 3 Day, 2 night tag-a-long tour of Fraser Island and accommodation at the Place Hostel the night before and the night your tour finishes. No need to stress about finding the departure point as you're already there and you have a place to rest your head after your tour.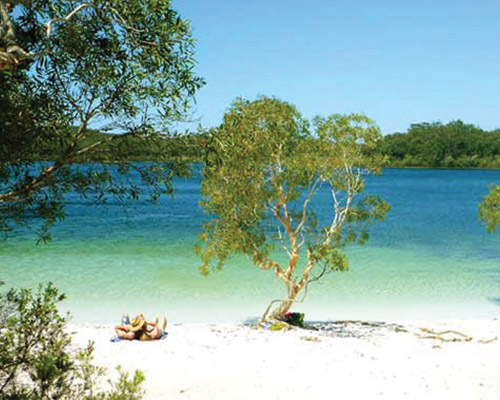 3. FRASER 4WD TAG-A-LONG EXPERIENCE 3 DAY, 2 NIGHT + ACCOMODATION IN HERVEY BAY + TRAVEL BRISBANE TO HERVEY BAY RETURN
$450
If you're near Brisbane and looking for a cool mini-break this is for you. You get the 3 Day 2 Night tag-a-long tour, accommodation at the Palace Hostel before and after your tour, plus your coach travel to get you there and back. Once you're booked, the only thing you need to worry about is having a good time.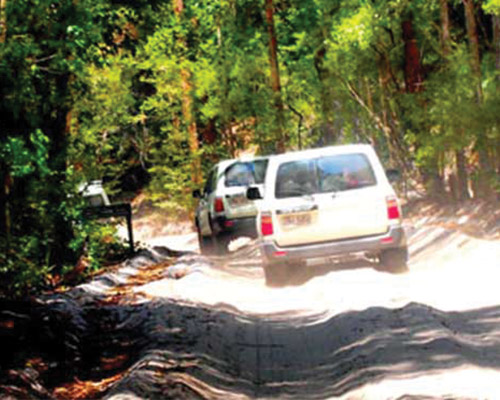 4. FRASER 4WD TAG-A-LONG EXPERIENCE 3 DAY, 2 NIGHT + ACCOMODATION IN HERVEY BAY + TRAVEL BRISBANE - CAIRNS
$750
Backpacking Queensland? This package is what you need when it comes to exploring the sunshine state and ticking Fraser Island off the ol' Bucket List. It's all the essentials in one value-for-money package including the 3 Day, 2 Night 4WD Experience, accommodation in Hervey Bay on the night before and after, AND a Greyhound coach pass so you can continue the adventure all the way along the east coast.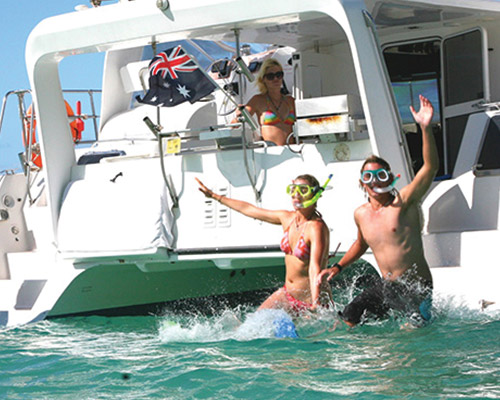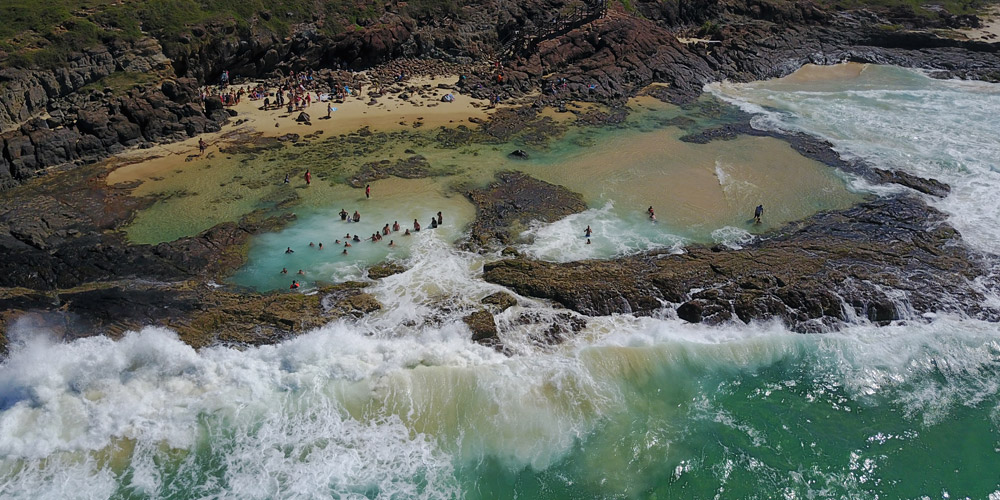 MORE INFO AND FAQ'S
WHAT'S A TAG-A-LONG TOUR?
The best way to explore Fraser Island is by Four Wheel Drive (4WD) so this is how we travel. Tag along tours work by having an experienced tour guide who knows the island, driving the lead 4WD vehicle whilst the rest of the group will have the opportunity to drive the remaining 4WD vehicles* 'tagging along' behind.
If you don't want to drive or don't have a driver's licence, that's cool. There will be of plenty of passenger's seats available on every tour.
*To drive the 4WD you must be over 21 years of age (driver's licence) 2 years driving experience.
ABOUT THE 4WD VEHICLES
Vehicles are connected by radio and are safe, easy to drive, and secure. Plus, your qualified guide knows all the tricks of the trade and is keen to show you the ropes. There's nothing quite like the actual experience of driving along a sandy track, surrounded by vegetation alive with bird life. Or the thrill when you successfully navigate over exposed tree roots on a sandy track or coax your four-wheel-drive vehicle through a dry patch of sand.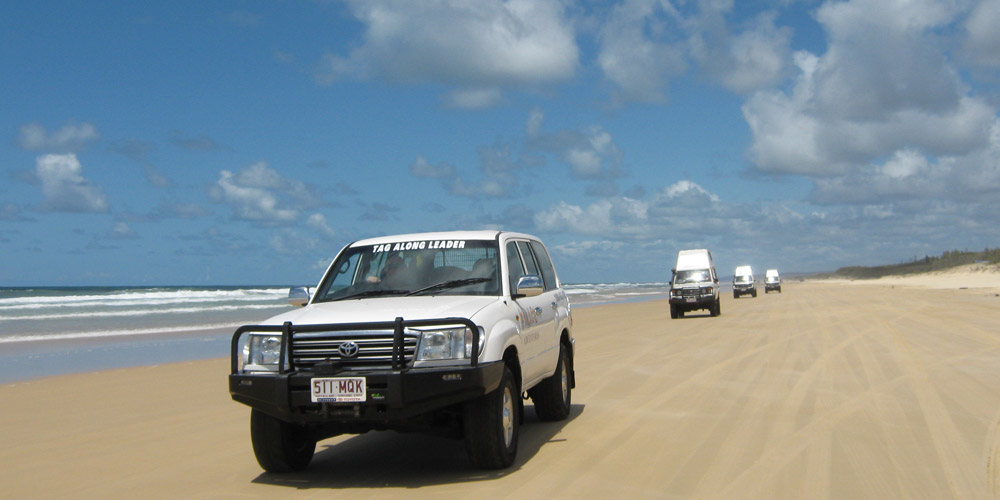 WILD WILDERNESS – COMFORTABLE CAMPSITES
Each night we retreat to a purpose built camp site along the eastern beach, we provide all the camping equipment including tents with enough standing room for changing and sleeping bags so you don't have to bring your own.
Our specially designed weather-proof camp kitchen and camp tables keep the sand out of your food, there's also a camp toilet so you can enjoy the nights in the Australian bush in comfort.
Other facilities include solar power lighting, water and washing facilities, and Our Palace Camper King Mobile Trailer, towed by the lead vehicle, keeps your personal belongings safe and secure throughout your trip.