Discover Greyhound Australia

OUR COMPANY
Greyhound Australia is Australia's only national coach service. We provide comfortable, hassle-free, and affordable coach services to people of all ages We travel across Australia everyday ensuring that our passengers can get to their destinations, both on and off the beaten track, and truly experience the beauty of Australia.
We have been operating for 110 years and are the leading coach company in Australia. From servicing just one town in the beginning, Greyhound Australia's network now covers most of the Australian mainland, employs over 600 people, and services more than 5 million passengers every year through its express and resources business.
TRAVEL AUSTRALIA
As we at Greyhound, are one of the oldest coach companies in the world, we use our knowledge and experience into our national fleet operating 365 days a year. We carry 5 million passengers over 38 million kilometres a year with a safety record second to none.
Greyhound wants you to have a great experience. So every Greyhound bus is driven by an experienced Coach Captain, who will ensure you arrive to your destination in both a timely and safe manner.
Our coach services allow you to take in the best Australia has to offer, and our wide variety of ticketing options allow and off as many times as your ticket allows. Or, you can simply you to travel at your own pace, hopping on choose your origin and destination and design your own trip along the way.
Greyhound Australia coaches are built with everything a modern traveller desires - USB chargers on every seat, free WiFi connectivity and reclining leather seats.
Every bus in our fleet is fitted with large, panoramic windows and oversized seats so that you can sit back, relax and let us drive while you enjoy the view. Plus, most of our buses have onboard bathroom facilities.
You'll be travelling with people just like you, to places that look just like the brochures say. It's a mighty fun way to see the land down under and who knows, you might just make a few new friends along the way.
HISTORY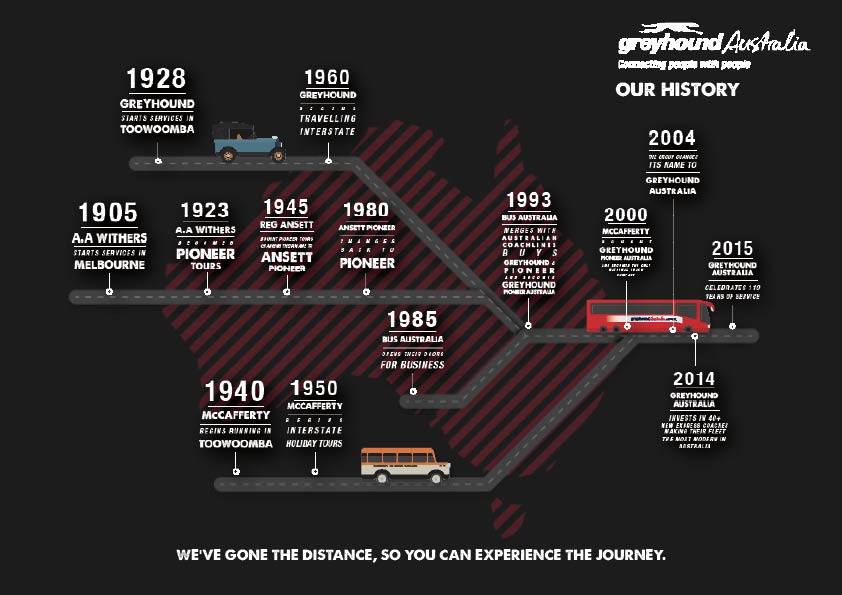 PIONEER TOURS - 1905
The A.A. Withers Bus Company started in Victoria in 1905, by introducing day tours around Melbourne. It was this Company that opened the virtually unknown route to the Australian Alps to coach tourists.
The name changed to Pioneer in 1923. In 1927, Pioneer took a transcontinental trip from Melbourne to Darwin - and just seven years later took a group of "pioneering" tourist's right around Australia.
Pioneer, in conjunction with the Shell Company, undertook a survey of the route from Adelaide to Perth - a distance of over 3,200 Kilometres - in 1957. As a result of this survey Pioneer become the first coach company to run weekly trips across the country.
GREYHOUND - 1928
In 1928, Mr A.R. Penfold began a passenger service between Toowoomba and Brisbane in response to a rail strike, which had halted most transport out of the town. His Bullnose Whippet car sported a Greyhound radiator cap, which has since become the most recognised symbol for coach travel not only in Australia, but also around the world.
The original Whippet car used by Penfold in 1928 is still in mint condition and registered for road use.
Greyhound commenced interstate services in the late 1960's. During this time the company acquired coaches with luxuries such as air-conditioning and on-board toilets, offering passengers the fast and comfortable long distance coach travel we enjoy today.
GREYHOUND PIONEER AUSTRALIA - 1993
Greyhound Pioneer Australia emerged in 1993 when Australian Coachlines Pty Ltd, which had brought Greyhound and Pioneer together the previous year, merged with Bus Australia. All 3 brands operated in competition with each other, each focussing on a different market segment.
MCCAFFERTYS GREYHOUND PTY LTD - 2000
McCaffertys purchased Greyhound Pioneer Australia in 2000 forming the only National coach operator in the country. The McCafferty Family sold their interest in the business to the ANZ Bank and the Chapman Group of Cairns in 2003.This rebranding creates a single entity from which to grow services, frequency and routes on a national basis.
GREYHOUND AUSTRALIA PTY LTD - 2004
The group changed its name to "Greyhound Australia Pty Ltd" in 2004 and now operates services under the brand Greyhound Australia.