Seat Selection
Got a preference for a window or an aisle seat? No problem – with our Seat Selection feature, you can reserve your favourite seat on the bus when you book your travel!
NEED TO CHANGE YOUR SEAT?
You can change your seat at any time up until your coach departs in My Greyhound account or by calling our friendly Customer Service Team on 1300 473 946.
Seats do not have to be chosen at the time of booking. If you choose not to select your seats at the time of booking, you will be allocated the first available seats on each service you are travelling on.
CHANGE YOUR SEAT IN THREE EASY STEPS
STEP 1:
When you book your travel, you'll be assigned a seat that will be shown in green. Unavailable seats will be shown in red.
To change your seat, simply select your assigned seat (the clicked seat will change to light green):
STEP 2:
Once your assigned seat is selected, select the seat you wish to change to. Repeat this step as many times as you need to.
STEP 3:
Once you have chosen your seats, click the CONTINUE button to save changes and proceed to payment.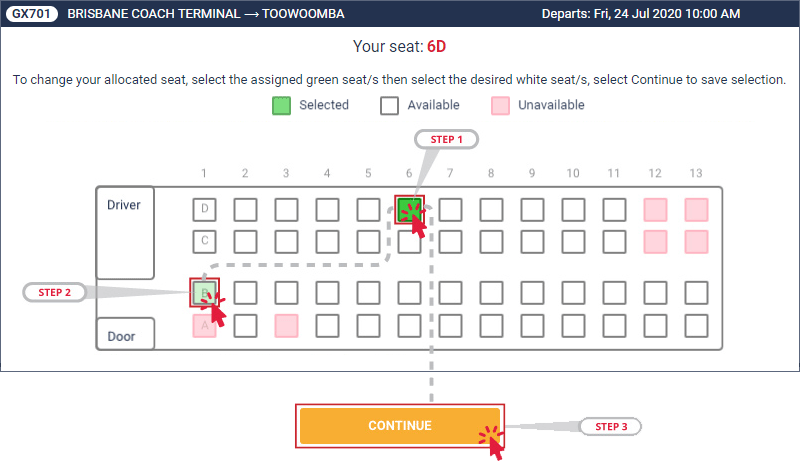 Please note: Seat allocations, whether chosen by the customer, or automatically allocated, are not guaranteed and may be affected by last minute service and/or coach changes.