Coober Pedy
All passengers must adhere to local state and territory government requirements due to COVID-19. See Service Updates for latest information, and find out how to Travel Safe with Greyhound.
Things to do in Coober Pedy
A truly unique place where a labyrinth of homes, hotels, shops and churches have been carved into caves beneath the earth's surface, Coober Pedy needs to be seen to be believed.
Things to do & see in Coober Pedy
Welcome to Hollywood in the Outback. Coober Pedy's sun-baked, lunar-like landscape and 'dug-out' homes have appeared in films like 'Mad Max Beyond Thunderdome', 'The Adventures of Priscilla, Queen of the Desert', 'Red Planet', 'Pitch Black' and more!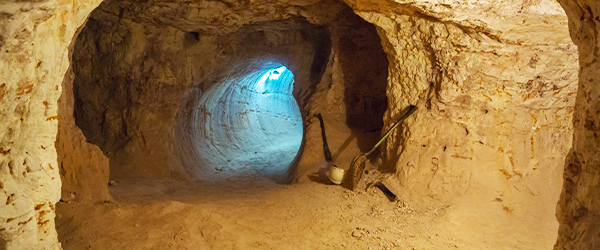 Coober Pedy is known as the opal capital of the world. At this underground tourist attraction, you can see an original opal mine and a genuine dug-out home on display, and shop for opal stones and jewellery.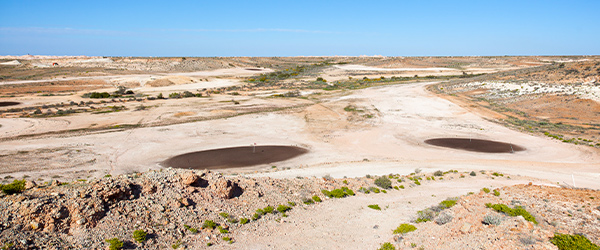 Coober Pedy Opal Fields Golf Club
Perhaps the world's strangest golf course, Coober Pedy Opal Fields Golf Club has no grass; just sand and rocky fairways. Somehow, it's the only club in the world with reciprocal playing rights at the legendary St Andrews in Scotland.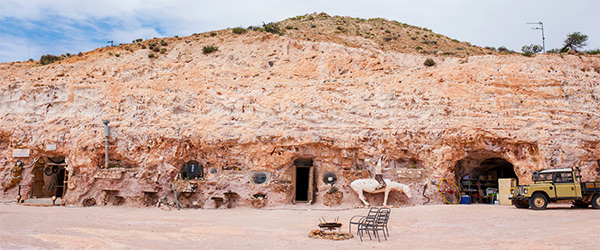 Crocodile Harry's Underground Nest
Famed for its use as a filming location in 'Mad Max Beyond Thunderdome', this wildly eccentric underground home is covered in graffiti, sculptures, carvings, posters, women's underwear and other bizarre knick-knacks.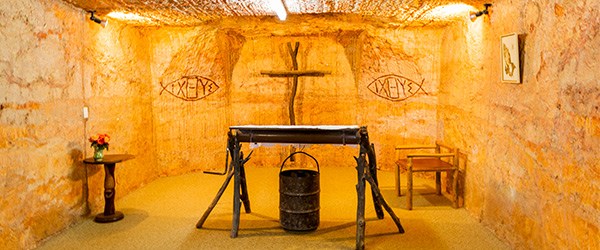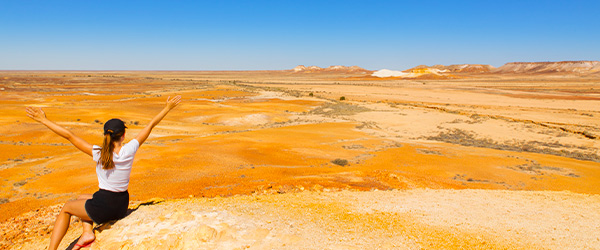 A striking rocky landscape of flat-topped mesas, The Breakaways feel like they belong on another world. Aim to see them at sunset, when you can get the best view of the sandstone colours.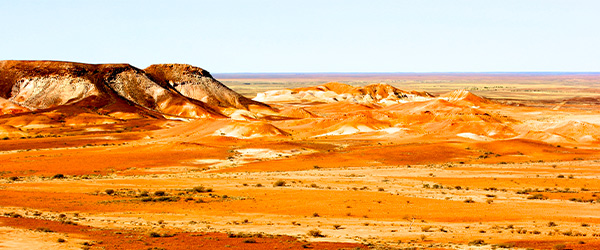 Emerging from a flat desert terrain 150km north of Coober Pedy, The Painted Desert is an unlikely landscape of colourful hills formed over millions of years by rain, weather and erosion.
Accommodation in Coober Pedy
To escape the extreme heat, most of Coober Pedy's residents live in underground houses that are tunnelled out of the sandstone surrounds. So why not do what the locals do and spend a night in a purpose-built underground motel?
Built 10 metres below ground level, the Radeka Downunder Motel provides its guests with a tranquil, quiet atmosphere that allows you to relax underground while the town works above you.
The Radeka Downunder Motel is located in the centre of town, within walking distance of shops and local attractions. Tours can be booked directly through the reception desk.
How to get to Coober Pedy
With more than 180 stops across the country and services in all mainland states and territories, Greyhound is Australia's largest coach network. Here are our most popular routes to Coober Pedy!
How to get around Coober Pedy
Once your Greyhound bus to Coober Pedy arrives at the Coober Pedy Terminal (52-56 Hutchinson Street), you'll find it's a small town that's easy to get around on foot. You'll find most of the attractions on one main street (Hutchison Street), and you can walk just about anywhere in town within 10 minutes, as long as you can handle the heat.
There is no public transport system or taxi service in Coober Pedy, but tours to attractions outside town – like The Breakaways or The Painted Desert – can be arranged at the Coober Pedy Visitor Information Centre (Lot 773, Hutchison Street, Coober Pedy), or at the reception desk of your hotel.
Itineraries & travel guides