Fitzroy Crossing Rest easy with Greyhound's COVID refund guarantee, if your service is cancelled due to COVID-related restrictions or border closures.
Things to do in
Fitzroy Crossing
On the banks of the mighty Fitzroy River, at the edge of the ancient Devonian Reef, Fitzroy Crossing offers visitors a true Outback experience.
Things to do & see in Fitzroy Crossing
One of only two towns along the epic stretch of highway between Broome and Kununurra, Fitzroy Crossing is the perfect base for exploring the national parks of the 350 million-year-old Devonian Reef.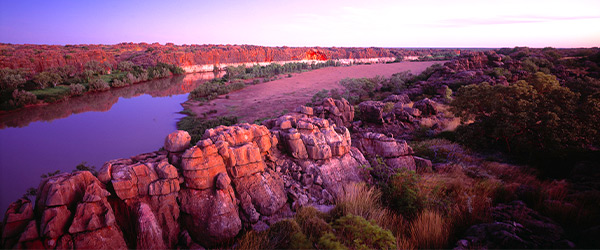 The most accessible of the three national parks in the area, Geikie Gorge is an astounding waterway, bracketed by soaring weathered cliffs, that plays host to rare marine life.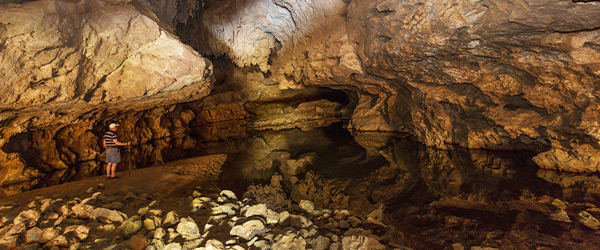 Formed by waters from the creek cutting a path through the ancient reef, the titular tunnel is 15m (49ft) wide and 12m (39ft) high, providing you with an ideal vantage point to see what remains of the ancient barrier reef.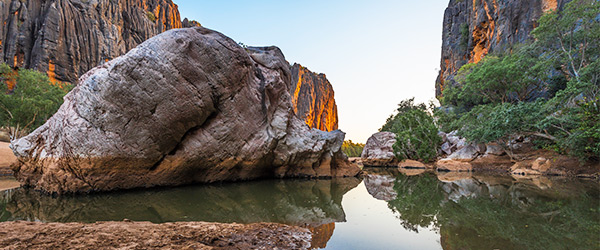 An area of cultural significance to the local Bunuba people, Windjana Gorge boasts walls rising to majestic heights of 100m (328ft). The freshwater pools at the base of the gorge are home to crocodiles.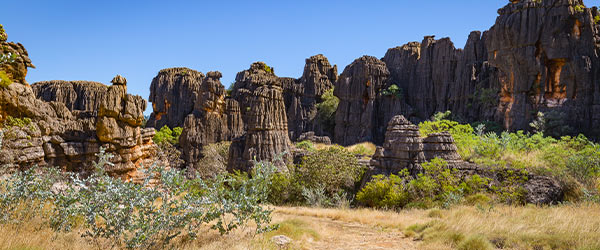 This spectacular network of caves attracts geologists and adventurers from all around the world with its intricate limestone formations, vivid colours and freezing freshwater pools.
How to get to Fitzroy Crossing
With more than 180 stops across the country and services in all mainland states and territories, Greyhound is Australia's largest coach network. Here are our most popular routes to Fitzroy Crossing!
How to get around Fitzroy Crossing
Once your Greyhound bus to Fitzroy Crossing arrives at the Fitzroy Crossing Visitor Centre (at the entrance to Fitzroy Crossing Library and Shire Offices, on the corner of Forest Road and Flynn Drive), you'll find it's a sprawling series of small settlements, rather than a traditional town with an identifiable centre.
The main attractions are spread out sporadically around the surrounding area – Fitzroy Crossing is 18km from Geikie Gorge, 63km from Tunnel Creek, 90km from the Mimbi Caves and 95km from Windjana Gorge – and there is no local public transport system.
There are, however, a number of local tour operators who will be able to take you to these attractions and guide you through them, dispensing invaluable local knowledge in the process. Visit the Fitzroy Crossing Visitor Centre to arrange a tour!
Itineraries & travel guides