Sunshine Coast & Noosa
All passengers must adhere to local state and territory government requirements due to COVID-19. See Service Updates for latest information, and find out how to Travel Safe with Greyhound.
Things to do on the Sunshine Coast
The superb beaches, stunning scenery and must-do attractions of the Sunshine Coast have made it Queensland's most popular holiday destination.
Surfing, hiking, shopping, dining and animal encounters – the Sunshine Coast has got it all!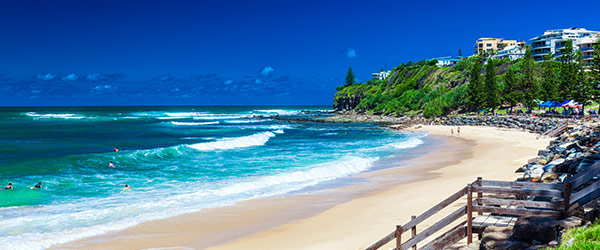 The Sunshine Coast's beaches are among the best in the world, and offer a huge range of choices for visitors – from calm bays and clear waters to world-class surf breaks, you'll find a beach to suit you.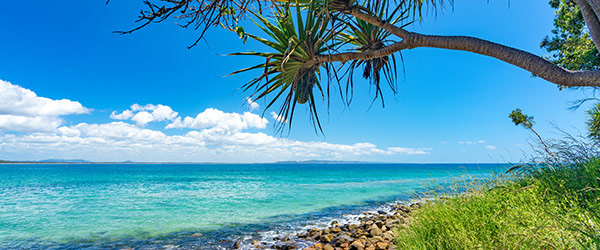 The most popular national park in the country, Noosa National Park offers secluded beaches, lush rainforest and unforgettable coastal views, with 15km (9mi) of walking tracks to explore. Keep your eyes peeled for koalas and dolphins!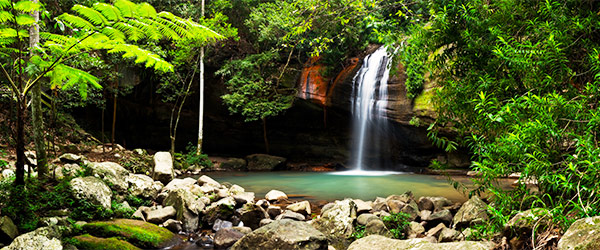 Go for a hike amongst the grand rainforests, ancient volcanic peaks and awe-inspiring waterfalls of the Hinterland. Once you've worked up an appetite, try some of Montville's famous fudge!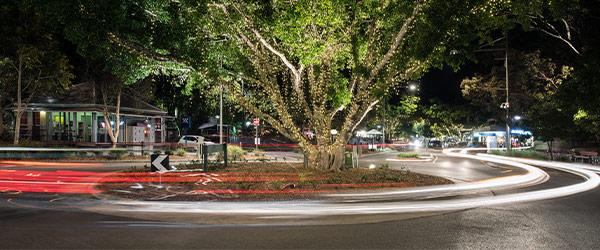 Walk straight off Noosa Main Beach onto Hastings Street, the internationally renowned thoroughfare known for its high-end international fashion labels, boutique shopping and five-star dining.
Accommodation on the Sunshine Coast
Our buses are just the beginning. We've teamed up with the best hostel providers in Australia to offer flexible passes and packages that make it a breeze to secure quality accommodation that won't break the bank, no matter where your journey takes you!
Check out Base & Nomads backpacker hostels when you're on the Sunshine Coast. Bookings can be made directly on their website.
The Bed Hopper Pass, available from 7 to 60 nights, is a flexible multi-night accommodation voucher that can be used to book dorm-style accommodation at Nomads Noosa Hostel and more than 20 Base, Nomads and Base-affiliated hostels throughout Australia.
Nomads Noosa Hotel
44 Noosa Dr,
Noosa Heads QLD 4567
How to get to the Sunshine Coast
With more than 180 stops across the country and services in all mainland states and territories, Greyhound is Australia's largest coach network. Here are our most popular routes to the Sunshine Coast!
How to get around the Sunshine Coast
The Sunshine Coast covers a large area and encompasses a number of scenic suburbs. As a result, our buses will drop you at a number of stops throughout the Sunshine Coast, including Mooloolaba (outside the Mooloolaba Bowls Club); Maroochydore (in front of the Visitor Information Centre on the corner of Sixth Avenue and Melrose Place); and Noosa Junction Bus Station.
Once you arrive at your chosen stop, you'll soon see exactly why it's called the Sunshine Coast – the sunny subtropical climate ensures that this part of the world is blessed with great weather all year 'round, making it a pleasant experience to walk or cycle to local attractions. There are bike paths all over the Sunshine Coast, especially in Noosa, Maroochydore, Alexandra Headland and Mooloolaba.
That said, with a sprawling 60km (37mi) coastline, as well as the beautiful Sunshine Coast Hinterland nestled inland, there are plenty of places to visit on the Sunshine Coast, and it won't always be possible to walk or cycle to all of them!
TransLink operates public transport throughout the Sunshine Coast, primarily in the form of buses. TransLink's 'Go Explore' card is perfect for visitors and tourists to the Sunshine Coast – for a small daily fee, you can enjoy unlimited daily travel on TransLink services throughout the Sunshine Coast, including to popular tourist destinations. You can also use your Go Explore card on the Gold Coast.
Go Explore cards can be purchased from selected retailers throughout the Sunshine Coast (including 7-Eleven and NightOwl convenience stores and most newsagents), as well as at select hotel booking desks. To plan your use of public transport on the Sunshine Coast, use the TransLink Journey Planner.
A number of taxi services operate throughout the Sunshine Coast, and can be pre-booked or hailed on the street and at taxi ranks. There are also a number of rental car operators on the Sunshine Coast, should you wish to hire a vehicle.
Itineraries & travel guides