Working Holidayer

Working Holidayer
Get 30 days of unlimited travel on our Queensland network for $539, PLUS a $200 discount voucher with our mates at Backpacker Deals!
Greyhound Australia has been delivering Queensland to Working Holiday Makers for over 90 years, so it's pretty safe to say that we've all missed you recently. That's why we're super excited to announce that in partnership with Tourism & Events Queensland and our mates at Backpacker Deals the launch of our brand new pass The Working Holidayer!
The pass includes travel from Sydney or Melbourne with unlimited and unrestricted travel on our Queensland network over 30 days in a three month period. From the spectacular reefs, lush green rainforest, the vast outback spaces and the miles of sandy beaches, quaint regional towns and hidden gems in between, it's already the perfect way to see all that the sunshine state has to offer, but we've also chucked in a sneaky discount code to use on Queensland based experiences with Backpacker Deals.
The Working Holidayer:
30 Days Travel in 3-months with a $200 discount code to use with Backpacker Deals on Queensland tours and experiences
The discount code will be included in the customers booking confirmation email
An exclusive pass product available only to Working Holiday Visa Holders
One way travel from Melbourne, Canberra, or Sydney to Brisbane.
Unlimited travel on Greyhound Australia services in Queensland with a choice of 111 different destinations with our services covering over 6,000 kilometres within the state (that's roughly the equivalent of three return trips between London and Berlin)
The 30 Days of travel are non-consecutive i.e. they can be used at any point within the three months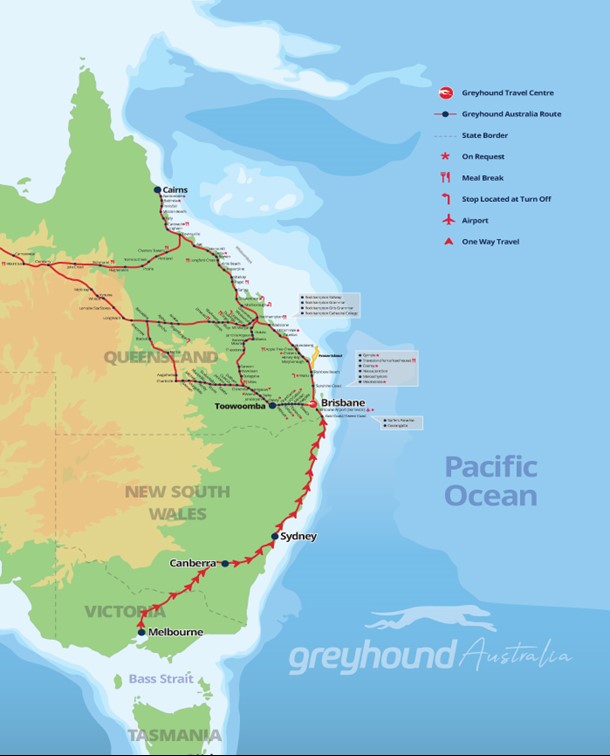 WHIMIT PASS BENEFITS
Unlimited travel: any route Brisbane<>Cairns and/or Rockhampton<>Longreach, any direction for as many days as your time allows


Best value for money: spend your precious pennies on having a good time, not worrying how you're going to get there


Less planning, more travelling: multiple daily departures means we're always ready to take you to your next destination


Staying connected: free WiFi and in-seat USB chargers on all our coaches


Online booking management: jump into your account and reserve a seat for your next trip


Go further, see more: see all of those hidden gems off the beaten track


One ticket: keep it simple and don't be weighed down. It's the hassle-free option.
TERMS & CONDITIONS
Once booked, customers have 12 months to start travelling with us
30 Days of non consecutive travel over a three month period. The 90 day validity commences from the date of the first sector booked
One way travel from Melbourne, Canberra, or Sydney to Brisbane. Travel will be restricted in one direction only (north) with no ability to repeat sectors or backtrack on this route
Unlimited travel on Greyhound Australia services in Queensland with backtracking and the repeating of sectors allowed
Travellers who start their trip on the very last day of their pass will be able to complete their trip even if it ends on the day after their pass expires
Pass is non-transferrable to another person
A refund is applicable less a 10% cancellation fee if the pass is cancelled before first sector of travel and before the discount code is redeemed
No refund if the discount code has been redeemed and/or the first sector has been travelled
Standard Greyhound Terms and Conditions apply
Backpacker Deals own Terms and Conditions apply