Popular Greyhound Routes Departing Victoria
Popular Routes Departing Victoria
Travel in either direction and explore with Greyhound
MELBOURNE < > CANBERRA
Whether you regularly commute or are looking for a short getaway, our services stop in both city centres, delivering you right in the heart of town.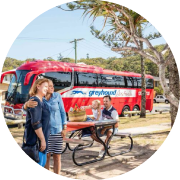 MELBOURNE < > SYDNEY
Greyhound travels between Melbourne and Sydney multiple times a day. Our services transit through Canberra giving you the chance to stopover if you choose.